Nylok's NySeal 2.0® Featured at the Detroit Fastener Fair
Nylok was once again part of Fastener Fair USA this past May, which hosted their 2022 event at Huntington Place in Detroit, Michigan. With more than 200 exhibitors, Fastener Fair USA is one of North America's top trade shows for the Fastener industry. Nylok's NySeal® 2.0 was featured in Fastener Engineering's "Top Finds for 2022," reinforcing NySeal® 2.0 as the king of under head sealants in the fastener industry. Nylok's newest products include NySeal® 2.0, a durable under head sealant, and NyShield®, which protects fasteners from galvanic corrosion.
Nylok at Fastener Fair USA
As the only local exhibition dedicated to the entire fastener supply chain, Fastener Fair is a fantastic opportunity to showcase Nylok's innovative fastening solutions. Per the attendant reporting from Fastener Fair USA: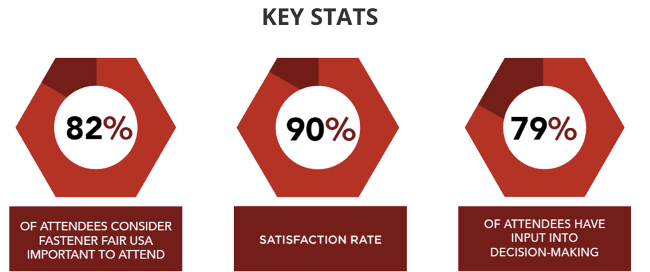 82% of attendees consider Fastener Fair USA essential to attend
There is a 90% satisfaction rate
79% of attendees have input into decision making
These statistics reinforce how important the event is for the fastener industry. With over 250 exhibitors, there is no shortage of opportunities to meet and cultivate relationships with current or new customers, identify distributors, and engineering opportunities all over the country. Other attendees at Fastener Fair USA this year were Advanced Poly Packaging, Goebel Fasteners, HEICO, Greenslade & Company, Buckeye Fastener Company, Infasco and many more!
NySeal® 2.0 – The King of Under Head Sealants
The exhibitors at Fastener Fair include manufacturing representatives, suppliers, distributors, and users. Concerning sealants, NySeal® 2.0 was featured for attendees to introduce themselves or become more educated on the king of under head sealants. NySeal® 2.0 allows for a more consistent tightening strategy for fasteners as the material does not squeeze out of the joint or application. NySeal® 2.0 is also an eco-friendly product that maintains integrity after multiple installations, offering strong adhesion to metal and plastic fasteners. NySeal® 2.0 seals under high pressures and ensures exceptional chemical resistance. Moreover, the shelf life is indefinite, and it is sulfur and peroxide-free with no outgassing. The eco-friendliness and quality of NySeal® 2.0 was a big hit for exhibitors, and more information can be found below.
Looking Forward to 2023
While it was great that this year's Fastener Fair USA was in the same state as Nylok's headquarters, the Nylok team is just as excited and already preparing for next year's show which is slated for May 16 & 17, 2023, in Nashville, TN. With the Speed Networking Program introduction at this year's event, it has never been easier to connect and network to refine fastener solutions better. We are proud to be one of the notable offerings from Fastener Engineering, and more information on NySeal® 2.0 and other Nylok offerings can be found by visiting www.nylok.com.