NYSHIELD® Named 2020 Automotive News PACE Award Finalist
FOR IMMEDIATE RELEASE:
LINCOLNWOOD, ILLINOIS – October 18, 2019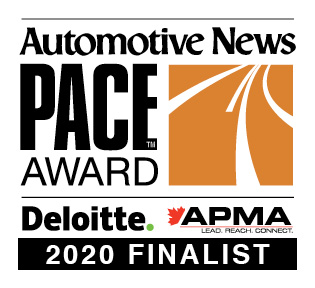 Nylok® LLC was named a finalist in the 2020 PACE Awards, for their new product NYSHIELD® which enables the attachment of lightweight materials to vehicles, without the worry of accelerated corrosion due to galvanic effects.

Finalists were announced on Friday, October 11, 2019 at the SAE Global Leadership Conference in White Sulphur Springs, West Virginia. PACE awards (Premier Automotive Suppliers' Contribution to Excellence Award) are awarded annually by Automotive News to celebrate companies with products that provide innovative and technological advancements.
"Nylok® is greatly honored to be a part of this selective group of finalists", said Jeff Stupar, New Product Development Director. "A great deal of focus was directed to first determine what the customer needs were in this space of automotive fastening, and then effort to solve the issue. It was clear from OEM and Tier 1 discussions, that attaching lightweight materials, such as magnesium and carbon fiber using steel fasteners, was a big challenge." Nylok® worked closely with fastener engineers, understanding key concerns and performance criteria that had to be addressed. After months of development and years of testing (both lab and field), the product NYSHIELD® was introduced. Stupar continued, "This product works extremely well in preventing accelerated galvanic corrosion, and also meets other fastening 'must haves' such as low clamp load loss, performance in temperature extremes, durability, and chemical resistance, to name a few." Presently, there are mostly workarounds for combating this issue, including using bulky washers, expensive metals, or aluminum fasteners. None of these offer OEM'S the affordability and minimal fastening package size that they desire.
Nylok® is one of 30 technology finalists that advanced to the final round of judging for this 2020 PACE Award process. Winners will be announced during a ceremony in Detroit, MI on March 23, 2020. For more information visit the Automotive News PACE Awards.
To learn more about NYSHIELD®, contact Nylok® at (586) 484-0894.