NyShield®
Galvanic Corrosion Protection
EXPANDING OPTIONS FOR FASTENING DISSIMILAR METALS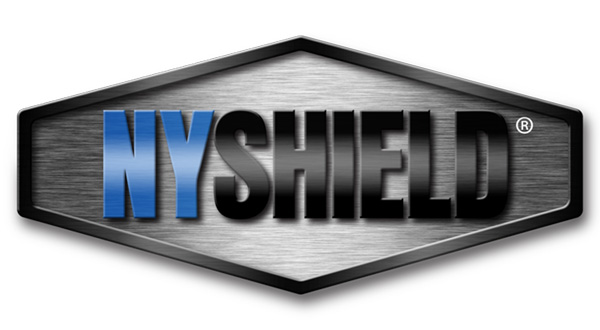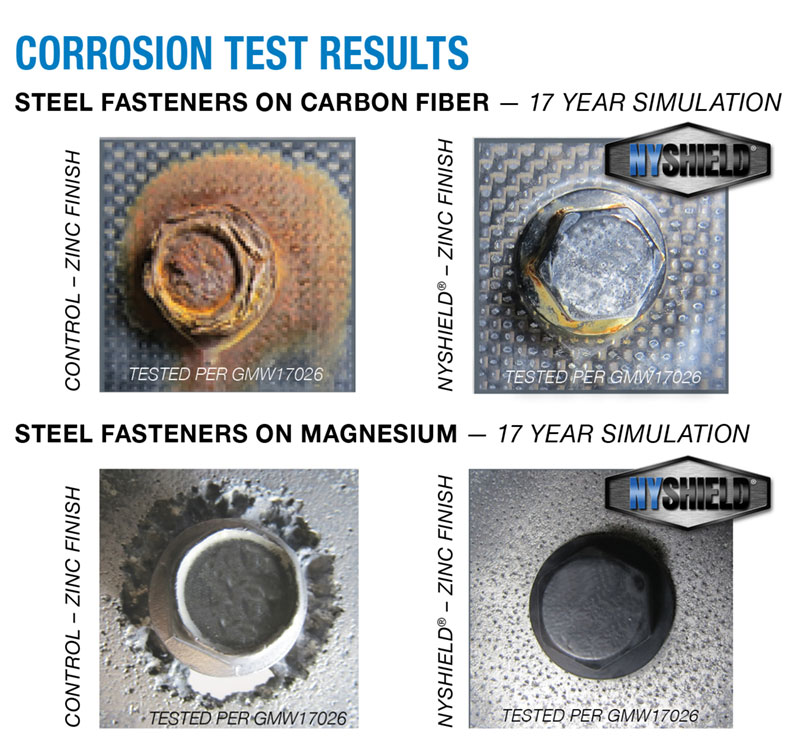 NYSHIELD® is effective in preventing galvanic corrosion between steel fasteners and the most extreme lightweight materials – which include both magnesium and carbon fiber.
NYSHIELD® is applied uniformly to the steel fastener surfaces that contact dissimilar materials, and shields/protects the least noble material. This product has minimal clamp load loss (compared to control but without
NYSHIELD®) while maintaining an exceptional chemical resistance and adheres well to most substrates.
NYSHIELD® protects steel fasteners from galvanic corrosion in high-risk material combinations:
Carbon Fiber
Magnesium
Aluminum
Chrome Plating
Others
Advantages
Provides exceptional galvanic corrosion resistance (steel fasteners with lightweight materials)
Provides general corrosion protection (passes 15 year test without corrosion)
Coating Uniformity: typical thickness is 50-75 microns
Does not affect functionality of HEX or TORX drives
Low clamp load loss at elevated temperatures (125°C)
Adjustable Coefficient of Friction (typically between 0.10– 0.16)
Excellent adhesion, toughness and durability
Exceptional chemical resistance
US Patent Nos. 9,738,792, and 10,465,077, other patents pending.  Also protected under TWI654265, CA2,972,984, MX 374,094, and KR 10-1935043, other patents pending.
Technical Data
Corrosion Resistance (steel vs. carbon fiber, steel vs. magnesium) is exceptional after 15 year simulation exposure (GMW17026) (See download for results)
Coefficient of Friction results are adjustable (typical range 0.10 – 0.16) (See download for results)
Clamp Load Loss Test & Results: Comparable to control bolt without NYSHIELD® (See download for results)
Tape Adhesion Test: 10 days @ 40°C in 100% RH chamber, cross hatch cut in coating/tape pull: no removal of coating (Per GMW14829) (See download for results)
Chemical Resistance Tests: • 24 hour soak (engine oil, coolant, transmission fluid, power steering fluid, windshield washer fluid, vehicle cleaning agent, transit coating/protective wax, car shampoo, paintwork cleaning product) • 2 hour soak (E10 fuel, E85 fuel, diesel fuel, Windex, Rain-X, 2-in-1 glass cleaner, remover for transit coating, washer fluid) • 10 minute soak (tar and road oil cleaner, chrome cleaner) • Results: no visual change in coating appearance: no noticeable softening of coating (See download for results)
Durability: Good corrosion resistance after coated fastener is subjected to drop test
Manufacturing Specs
Manufacturer
Spec
GM

GMW17796
(Per RM 2/13/18)